This article contains everything you need to know when it comes to promoting Live Stream ticket sales for an event on the Afton LiveStream platform. If you have other entities promoting your live stream (affiliate link sellers, other promoters or venues, street team, etc) this article will explain everything they need to know to promote your stream properly. Following these tips will ensure you maximize your stream revenue.
HOW TO PROMOTE YOUR STREAM TICKETS
We highly recommend that you set up a unique Affiliate Link for EACH artist that is performing on the stream. That way you know definitively how many stream tickets each artist sold, which can be useful for future bookings and seeing which artist promoted the event properly.
View Tutorial for Creating Affiliate Links Here
What is an Affiliate Link?
A unique link that takes fans to your purchase page that is trackable so you know how many ticket sales that affiliate generated for your event.
Everyone who is promoting your stream should be directing all of their promotion and their fans to the Affiliate link that you provide them, if applicable to ensure you have proper tracking of who is generating ticket sales for you.
The Event Organizer and any entity that is promoting the stream (artists, affiliates, etc) should independently do the following:
Create their own Facebook Event for the stream
Email their mailing list and past fans/purchasers.
Run paid ads on Facebook/Instagram (this is crucial to maximizing revenues for your stream)
Post on their own social media on where to buy tickets.
All promotions should DIRECTLY point to the purchase page on Afton Tickets so that fans can purchase tickets with 1-click. It's not advised to promote a link that directs fans to your website first, because you'll lose tickets sales when fans can't easily find the Buy Tickets link or they'll get lost having to click through 2-3 pages to find where to buy tickets for your stream.
Many clients are contacting other Promoters and music venues around the country, or the world, and giving them a % split on any live stream ticket sales they generate for the stream by using our Affiliate links feature. Utilize your full network because if you can have 5, 10, 20+ affiliates promoting your stream for you, you and the artist are going to make a lot more money.
Paid Facebook Ads are Paramount to Maximizing Stream Revenue

The key to maximizing live stream ticket sales is targeted Facebook/Instagram ads. If you book an artist with 1 Million monthly Spotify listeners and run $200 in ads, you're going to fall short of your projections. We've had stream organizers spend $300 in Facebook Ads and generate over $15,000 total gross for their stream. But had they spent 3x to 10x that ad spend, they would have seen a huge increase in total sales. When it comes to marketing your stream, make sure you set aside a healthy Facebook ad budget, track your ROI on ads to see if you should keep spending or increase your budget, and do not rely on organic social media posting alone.
CAUTION: Major artists have done paid live streams themselves and relied only organic social media posting for all of their sales, without investing much or anything in paid Facebook ads. This is a mistake, and they're losing out on 80% of the ticket revenues they could have seen with a properly spent Facebook ad budget.
Event Organizers need to capitalize on their artist's large following and proactively invest in targeted Facebook Ads in order to maximize ticket sales. We see 50% of sales happening 4+ days ahead of the stream, 20% happening 2-4 days prior to the stream, and 30% or more of sales occurring day before or DAY OF show. Make sure you continue your Facebook Ad Spend all the way until the show starts, and leave at least 30% to 50% of your total Facebook ad budget until the last 48 hours leading up to the show.
The True Value of a Paid Fan in Your Stream
Event organizers should negotiate a split on in-stream Merch sales and in-stream Tips with the artist. Typically, 50% to 60% of total gross comes from live stream ticket sales, 30% to 40% comes from in-stream Merch sales, and 10% to 30% comes from in-stream fan Tips – depending on the artist and fan base. So remember this when you're running Facebook Ads. Your true ROI is not just the live stream ticket face value, but also whatever split you've negotiated on in-stream merch and in-stream tips.
Typically, on a $20 live stream ticket event, we're seeing the total value per fan as $30 to $40 after factoring in the in-stream merch and in-stream tips.
Tracking your Facebook Ad ROI
Afton's self-service Facebook Pixel Tracking Install tool will ensure that all of your Facebook ads are tracked and that you see the true ROI and true ticket gross sales generated from your Facebook Ads from your Facebook ads account. Don't forget to do this important step, it's quick and easy.
How to Install Your Facebook Ad Account Pixel from Your Afton Client Portal
Once you follow the above instructions, you'll be able to see from your Facebook ad account the true stats on how many tickets your ads have sold. Example: You'll see that your $363 ad spend has sold $8,411 in gross ticket sales on AftonTickets.com
Sell More Tickets Once Stream Starts with Afton's Facebook Live Teaser Feature
This powerfool marketing tool allows you to simultaneous send your stream to Facebook Live. The point of this is not to give your stream away for free on Facebook, but to give your followers a 5-10 minute"Teaser" of the live stream once it starts. This helps generate tons of last minute ticket sales. Facebook's algorythms prioritize Facebook Live posts and as more followers tune into the Teaser and comment, Facebook will show the post to more and more of your followers. After you END the stream to Facebook Live after 5-10 minutes, the Facebook Live post remains on your Facebook page and fans can re-watch that Teaser video.
The key is making sure your Facebook Live posting with the Stream Teaser clip clearly states that the LiveStream just started and that it displays your Buy Tickets URL so fans seeing the Teaser can instantly go purchase a LiveStream ticket. When they purchase last minute like this, they can access their ticket instantly on the purchase success page.
IMPORTANT:
It's also a good idea to have one of your team members monitoring this Facebook Live teaser in real-time, so they can comment to fans and remind them of where to buy tickets for the stream. But also so you have a team member who is responsible for ENDING the Facebook Live stream after 5-10 minutes so that you don't accidentally keep the Facebook Live stream running for your entire show and give it all away for free by mistake. Below is exact instructions and a video on how to use this powerful marketing tool!
Watch Facebook Teaser How To Video
How To Use Afton's Facebook Live Teaser Feature to Generate Sales Once Stream Starts
Contact your Afton Account Manager if you'd like to use this feature so they can enable it for your event and make sure you are clear on how to run it.
HANDLING QUESTIONS FROM FANS
Support Contact for Fans
Afton LiveStream handles customer support and fan questions. If fans contact you, you can direct them to our support team at:
support@aftontickets.com
888-308-9574
Or to the Afton LiveStream Help Center
  *Our help center lists the above support contact info as well.
Where Do Fans Purchase Tickets?
Fans will buy tickets with a direct URL for the specific event you or affiliates are promoting. The direct URL for your event is listed in your Afton Client Portal under the LiveStream events dashboard.
*If you want to use our Affiliate Tracking feature so that affiliates who are promoting your event have ticket sales tracking displayed in your Affiliates Report for any sales they generate – then make sure you create a unique Affiliate Link in your Client Portal and that they use only that affiliate link to promote your show. The direct URL for your event or any affiliate links will take them to the purchase page for that specific event. Fans will select their ticket quantity and checkout.
How Do Fans Access the Stream?
After ticket purchase, the purchase success page will display their live stream ticket direct link if they want to copy it and store it in a safe place (useful if they purchase right before stream starts or shortly after stream has already started). They can also use the Add to Cal buttons to store their live stream ticket link to their calendar so they can access it later.
In addition to that, we email their Afton LiveStream ticket to their purchase email right after purchase.
To access the stream, fans simply click the "Click Here to Redeem >" link within their ticket email. Or they can copy and paste their direct link displayed on their ticket. No login is required, Afton's anti-share ticket protection ensures only 1 device can watch the stream at any one time with a unique ticket link.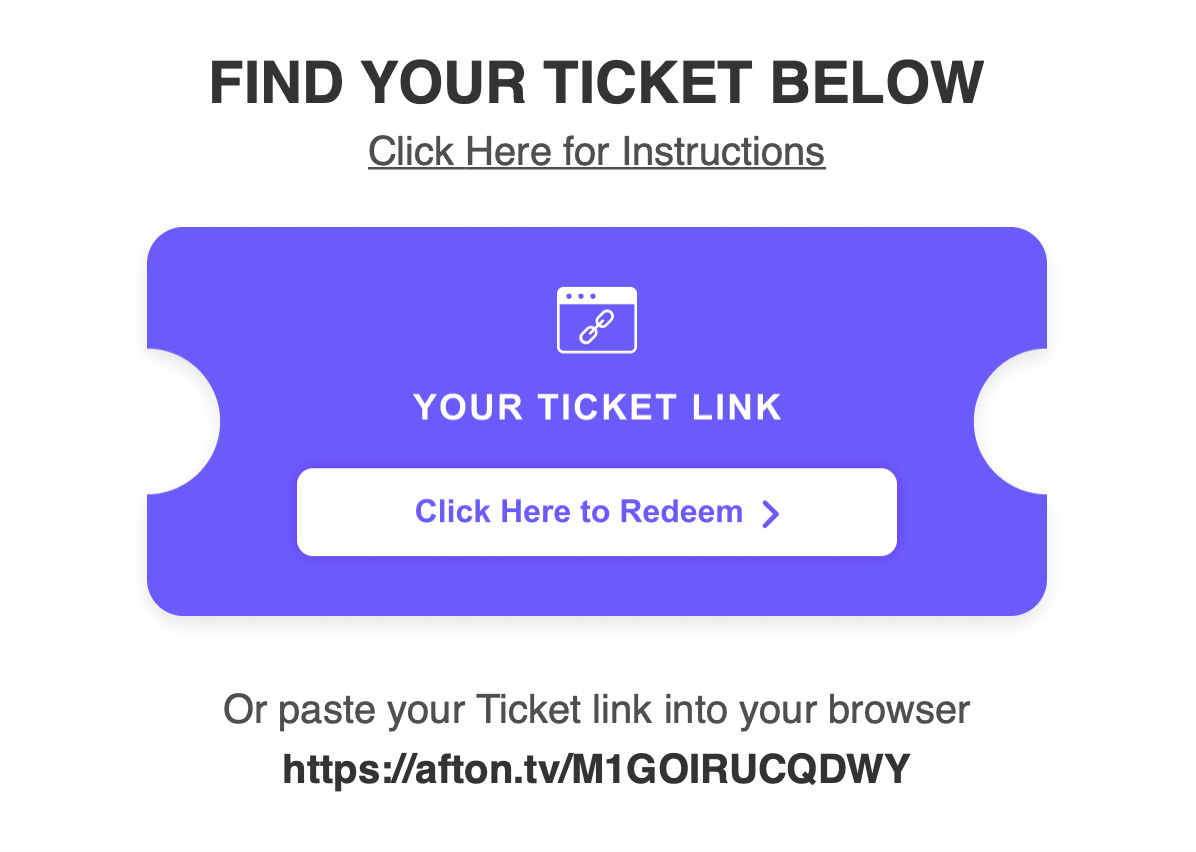 Where Do Fans Watch the Stream?
Fans will watch your LiveStream on our platform at the unique Afton Watch page for your event. Each ticket link directs fans to your event's Watch Page. Fans can also access the Watch Page from the ticket purchase URL for your event as well. So if fans ask where they watch the show, they won't watch it on another platform such as YouTube or Facebook Live, they will watch the stream on your Afton Watch Page and access the stream with the ticket they purchase.