As the event organizer for an Afton LiveStream, you have the ability from your client portal to control your live chat if users are sending any inappropriate chats. You can block a user from live chatting completely so they can no longer live chat for that event. Blocking a live chat user will also delete any live chats they previously sent. You also have the option to delete only certain chats, without blocking the user completely.
BLOCKING A USER FROM LIVE CHAT
Login to your client portal at hq.aftontickets.com
Click on the green LiveStream button at the top of your client portal to go to the LiveStream Events Listing Dashboard.
Click "Edit/Manage LiveStream" for the LiveStream event that is currently in progress.
Click "LiveStream Dashboard" in the sub-nav once you're in the right event.
Then click the "LIVE" icon that appears below to the right.
Now you are on the GO LIVE client dashboard for the live stream that is currently in progress.
Right below the Live Chat (to the right of the video player) you will see a purple button named "MANAGE CHAT USERS," click that to access the Manage Chat Users screen.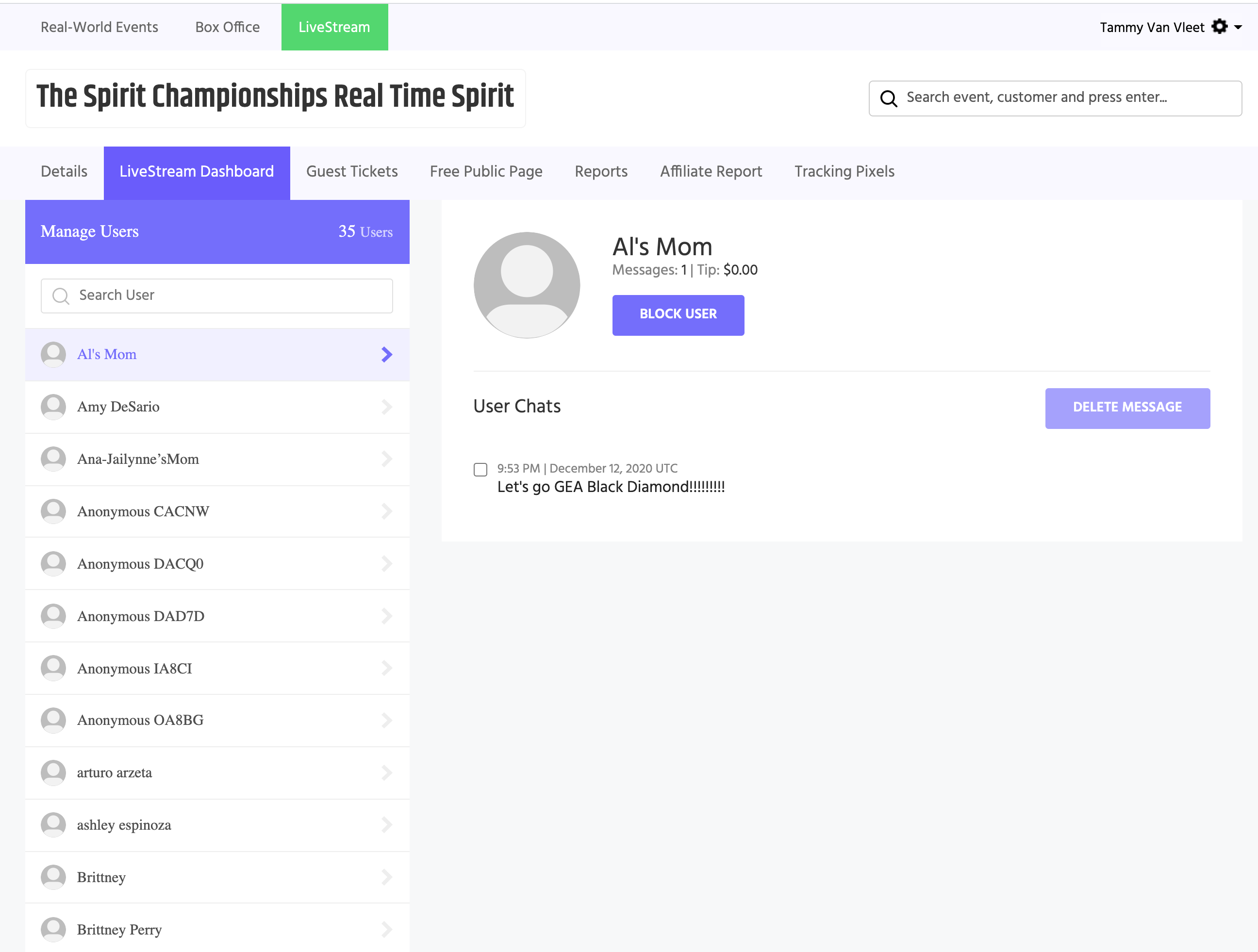 Here you can SEARCH the chat username to see all of the chats they have sent so far.
Once you search a chat username, to the right you will see a purple "BLOCK USER" button under their username.
If you click "BLOCK USER" the system will:
Prevent that user from sending anymore live chats for the remainder of this event.
Automatically DELETE all chats that they have sent up to this point.
You can UNBLOCK a user at any time using the same steps as above, but a blocked user will show a purple "UNBLOCK USER" button. If you click that, it will unblock that user and allow them to start chatting.
DELETING SPECIFIC CHATS WITHOUT BLOCKING THE USER
You'll use the same steps listed above to get to the Manage Chat Users Dashboard.
From there, you can SEARCH the chat username that sent the chat(s) that you want to delete.
After you search their username, to the right you'll see all of the chats they have sent so far.
Here you can checkbox any chats that you want to DELETE.
NOTE: Deleting specific chats will NOT block the user. The user will still be able to continue sending chats, in this case, all you are doing is deleting specific chats they have already sent. If you do this and the user continues to abuse live chat you can BLOCK the user if necessary.
Need additional help? Contact your Afton Account Manager or you can reach out to support@aftontickets.com